Mug Club Openings, Rock On Beer Release Party, New Brews, & More!
Hope everyone is having as good of a Summer as we are! In this email, we cover some of our July events as well as new beers and openings in our mug club. We hope to see you here to enjoy this amazing weather in our beer garden. Cheers!
Limited Mug Club Openings Now Available
Interested in becoming a member of our mug club? Well, now is your time – we are opening up at least 10 spots to make room for you!
The inaugural year of our Throwback Brewery Mug Club has been such a success, and in such high demand (thank you!), that we thought – why not expand it and make room for a few more?
So, if you haven't heard the perks of membership yet, or are a current member who hasn't yet re-upped, here is a recap of the special privileges that await for our lucky mug club members in year two!
Membership Privileges – Exclusive Benefits of the Throwback Brewery Mug Club include:
– Mug Sized Beers (19oz) at regular 16oz pint prices
– 25% off Throwback merchandise.
– A free burger (or veggie burger) & a beer during your birthday week!
– One free mug of beer to celebrate your initiation or renewal
– 10% off your food and beer order during Thursday and Friday lunches (12-4pm).
– Exclusive Mug Club-only appreciation events. In year 1, we had a behind the scenes tour of our farm and brewery, plus a Winter social with tasty snacks from Chef Carrie. We have more fun ideas for year 2!
– First access to limited bottle releases or special beer dinners and events before they go on sale to the public. This coming year, we will give mug club members first access to purchase our Fat Alberta chocolate peanut butter imperial stout. Also, like last year, instead of a bottle limit of 4, you can purchase up to 6 bottles if you choose.
– Bragging rights for helping to fund our big list of projects. In 2016, we used the mug club membership fees to buy and install acoustic tiles!
Also, as in year one, the top 10 most active mug club members receive 40% off their mug club renewal for the next year ($45). Renewal rate for alums is $75. First time mug clubbers is $100.
To learn even more about our mug club, click here.
Beer Release and Concert – Tuesday, July 18th!
When the non-profit Rock On Foundation asked that we brew a beer with them to support their Rock On Fest (featuring a bunch of female-led bands), how could we say no? Also, never one to really need an excuse for a party, we also thought 'why not throw a release party here of this limited edition collaborative beer called Master of Art Saison?'! So come on by Throwback Brewery on Tuesday, July 18th from 6-9pm for the release of this beer plus a free show from Boston's Damn Tall Buildings – a kick butt, folksy bluegrass band!
Note – this is a free event, but will be capped at ~200 for capacity reasons. Please make sure to grab a ticket on eventbrite if you would like to go!
About the Rock On Foundation. Founded by brothers Luke Bonner and Matt Bonner, Rock On Foundation is a 501c3 nonprofit organization that serves to enrich the quality of life in communities by supporting athletic, artistic, and scholastic initiatives.
Read on for more news about upcoming beers, events, and more!
Cheers!
–Annette & Nicole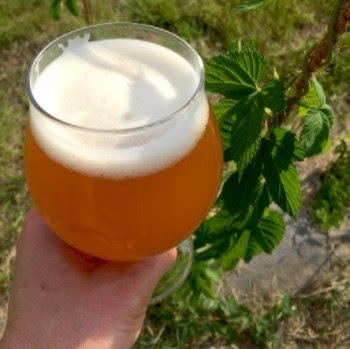 New Beers!


On our 6th birthday party, we released Kelly Likes Hops IPL – a hoppy lager, also known as an India Pale Lager. This beer is super crisp and clear with a full hop bouquet and taste – melon, grapefruit peel, with a bit of hop dank-ness. Some of you might be very surprised to learn that it's a lager! This is the second beer in our

Hoppin' Summer Series

– the first was Cashmere Track Suit (which has already come and gone, but you can expect it to make an appearance again early Fall!). In August, we are releasing a dry-hopped, tart blonde ale. And, finally, in September, you can look forward to a dry-hopped sumac sour!

Today, we 'watermeloned' our blonde ale – so look forward to Watta Melon by

this Saturday

.

Next

Tuesday, July 18th at 6pm

, come celebrate the release of

Master of Art Saison

– a hazy, golden-colored, dry saison with a big tangerine nose and flavors of tangerine, peach, and apricot – balanced by a kick of peppery spice from the saison yeast. This beer received its name as a tribute to indie-rocker

Laura Stevenson

who will be headlining

Rock On Fest

in downtown Concord, NH on

Sat, August 12th

– a festival boasting live music, basketball, family fun, outdoor yoga, an outdoor movie, and our beer!

And, finally, coming up for the

4t

h Annual NH Brewers Fest,

we are brewing a special beer – a fruit-forward grisette. Light and drinkable at 4.6% ABV! For those of you without plans on

July 22nd

, we highly recommend this beer fest! There will ne more NH brews flowing than any other brewfest across the State. With OVER 40 of NH's craft breweries hard at work to make this year's festival the biggest offering yet- with special releases, collaborations, and several seasonals available. And let's not forget how many of NH brewers and assistant brewers will be on site and pouring their brews!

So grab a ticket

, and come try our special release for this fest, and say 'hi' to Throwback co-founder Nicole.
Copyright © 2017 Throwback Brewery, All rights reserved.
You are receiving this email because you asked us to keep you updated!

Our mailing address is:


Throwback Brewery

7 Hobbs Road

North Hampton, NH 03862