First Look: New Troegenator &
HopBack Art
Master of Pumpkins
Annual Fresh Hop Ale
The Start of Elf Season
Hop Dash
Tröegs Events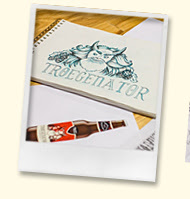 First Look: New Troegenator & HopBack Art
Here's a sneak peek of the new art for Troegenator Double Bock and HopBack Amber Ale coming in November! As you can see from these various sketches and adaptations, both 'Nator and HopBack went through a few incarnations before we landed on fresh interpretations of two of our most iconic beers. Over the next few weeks leading up to the new art launch, we'll be sharing more sneak peeks of year-round beers via Instagram. Be sure to follow @troegsbeer for more on the new art of Tröegs!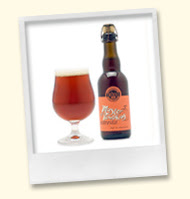 Master of Pumpkins


With summer in the rearview mirror, the time is right for pumpkin beer! Master of Pumpkins is now available in 4-packs and cases of 375mL cork & cage bottles across our entire distribution footprint, as well as on draft in our Tasting Room. You can also pick some up in our General Store at the brewery. Conjuring the essence of the fall season, Master of Pumpkins combines roasted pumpkins and traditional pie spices with French saison yeast to release a palate of vanilla, cinnamon, clove, nutmeg, ginger, and honey.

Annual Fresh Hop Ale
The hop harvest window is a short one. Hops harvested too early can lose essential flavors and aromas; too late, and you get off-flavors of onion and garlic. Recently, Tröegs sent two teams to Yakima, WA to select our hop lots for the upcoming year. Widely regarded as the hop capital of the world, the Yakima Valley region is the largest supplier of hops in the United States. The teams spent a few days strolling the vast fields and hand-selecting some of our most widely-used varieties including Cascade, Chinook, Citra, Centennial, Mt. Hood and Willamette. "It's a critical trip for us each year," said John Trogner. "It allows us to really get our hands dirty and take an active role in selecting the right hops for our beers." You can visit the Yakima Valley vicariously through our current Scratch Fresh Hop Ale, brewed with wet Mosaic hop cones harvested, packaged and delivered to the brewery all within 48 hours. Our Fresh Hop Ale is available on draft in the Tasting Room or via growler fill to enjoy at home. We'll also have bottles, 6-packs and cases available through the General Store.

The Start of Elf Season


The Mad Elf, our cheerful holiday ale, makes its return to beer shelves in bottles on Monday, October 12 for bottles, followed by draft on Monday, November 16. Brewed with sweet and sour cherries, local PA honey and chocolate malt, then fermented and aged with a spicy Belgian yeast strain, this ruby red ale boasts significant warming strength that underlies its pleasant yet intriguing flavor. Since Mad Elf is always one of our most popular releases of the year, make sure to stock up for the holiday season before he scampers away until next year.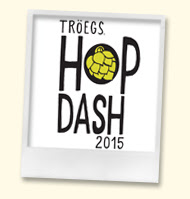 Hop Dash


You still have time to register for the 2nd annual Tröegs Hop Dash 5k race! The race, which benefits the East Shore YMCA, will take place in downtown Harrisburg at the Capitol complex on Saturday, October 17. Each Hop Dash participant will receive an official Hop Dash koozie, tech shirt and finisher medallion, plus a raffle entry for a Grand Prize Tasting Tour and lots of other cool Tröegs prizes. Following the race, all participants are invited to the Tröegs Hop Dash after-event along, where runners will receive two (2) Tröegs beers and other swag bag goodies. If that wasn't enough incentive, we'll also award $50 Tröegs gift cards to the first place overall male and female finishers as well as the best dressed (Tröegs-inspired) male and female. The after-event will take place on State Street between 2nd and 3rd Streets at the base of the Capitol steps and will feature music, prizes, food and beer! The race begins at 1 p.m. followed immediately by the Hop Dash after-event. Registration is $50 per person. To register, please click HERE.

Tröegs Events


Click HERE for a complete list of Tröegs events for the month of October and beyond. Don't forget! Cleveland Beer Week runs October 9 thru 18.
10/14 – Tröegs Fall Harvest @ The Mill, 583 Warburton Ave, Hastings-On-Hudson, NY – 6pm
Thu. 10/15 – Costume Party @ Bank Square Coffeehouse, 129 Main St, Beacon, NY – 7pm – Draft specials when you come dressed in costume!
Thu. 10/15 – Tröegs Pint Night @ Jake's Billiards, 1712 Spring Garden St, Greensboro, NC – 12 to 10pm
Fri. 10/16 – Bowling with Tröegs @ ABC Tavern, 1872 W 25th St, Cleveland, OH – 10pm – Win cool prizes!
Sat. 10/17 – Oktoberfest @ Sunset Pub & Grill, 425 Beaverbrook Rd, Lincoln Park, NJ – 12 to 10pm
Tue. 10/20 – Tröegs Nightmare Before Xmas @ Clinton Hall, 90 Washington St, New York, NY – 6 to 9pm – Vintage Mad Elf, Master of Pumpkins & Naked Elf, plus giveaways & more! Tue.
Sat. 10/24 – Ardmore Music Hall Beerfest @ Ardmore Music Hall, 23 E. Lancaster Ave, Ardmore PA – 12 to 5pm
10/27 – Full Moon Firkin @ Tröegs Brewery, 200 E. Hershey Park Dr, Hershey, PA – 11am Thu.
10/29 – Tröegs Tasting @ Common Market, 2007 Commonwealth Ave, Charlotte, NC – 6 to 8pm
HEREFor a complete listing of Tröegs events, please click .



Tröegs Brewing Company
200 East Hershey Park Dr. Hershey, PA 17033
info@troegs.com | 717.534.1297